Dwyane Wade and LeBron James don't like Lance Stephenson.
Lance Stephenson doesn't care.
Starting from that point leads us to one of the more intriguing subplots of the Eastern Conference finals between the Heat and Pacers. Stephenson and Wade will naturally run into each other throughout the series since they will guard each other quite a bit.
As Stephenson has developed into a contributor for the Pacers over the past three seasons, Wade's career has been trending the other direction as he deals with various injuries which have absorbed some of his explosiveness or at best forced Wade to pick his spots. Still, Wade can get buckets and averaged over 18 points per game against Brooklyn but he's doing it with more mid-range shots instead of eye-popping finishes at the rim.
So while Stephenson may now have a physical advantage over Wade, that ability to pick his spots along with an abundance of veteran savvy gives Wade a mental advantage. He will surely chirp, bump and prod Stephenson, trying to test the Pacers' testy guard who plays at his best on the edge of losing control. If Wade can nudge him over that edge, advantage Heat.
This matchup is not about numbers or X's and O's but instead, good old fashioned gamesmanship. I love it.
This distaste between the two started two years ago when Stephenson was nowhere near ready to play in the playoffs, but made his presence felt by offering a choke sign after LeBron James missed a free throw which was quickly blown up, slowed down and turned into a major story between games.
Then last year during the playoffs in Miami, with the Pacers pushing the ball up the court, Wade slammed Stephenson in the head while somehow avoiding any penalties for slamming a player in the head. Much like when he cross-checked Darren Collison the year before, Wade was able to flail and act as though he was the assaulted party.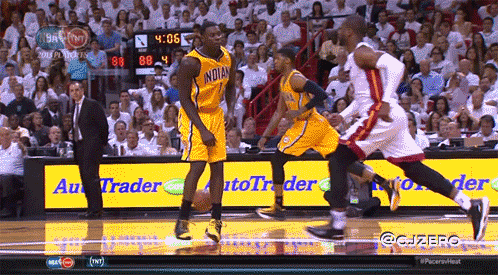 Finally, this season in the Pacers win over the Heat at the Fieldhouse in late March, Stephenson had momentarily won the physical (re: making a basketball play) battle over Wade but quickly lost the mental tussle when he was lured into engaging Wade following a nice bucket. Wade went full through his full repertoire of chump moves to help get Stephenson T'd up. Since the two engaged earlier in the game to earn double-technicals, the second tech ended Stephenson's night.
Yep, Lance and DWade will have an impact on the Eastern Conference finals and it might even have something to do with basketball. Regardless, it should be plenty entertaining.