from: www.spin.ph/sports/basketball/news/moa-arena-set-to-host-pacers-rockets-regular-season-game-says-official
By Richard Dy
February 14, 2013, 03:25 pm
The NBA is coming to Manila this year, not to hold an exhibition game but no less than a regular season match.
Mall of Asia general manager Arnel Gonzales confirmed the news to Spin.ph on Thursday, saying the regular season game might feature the Indiana Pacers led by Danny Granger and the Houston Rockets of James Harden and Asian-American star Jeremy Lin.
However, Gonzales insisted nothing is yet certain on which teams will be coming over, saying it will depend on the negotiations.
"It will be historic for the Philippines and for any venue for that manner," Gonzales said. "It's part of the program of Mall of Asia to bring in world-class entertainment. And this is basically the first step."
The state-of-the-art arena piqued the interest of sports fans on Thursday when it posted on its Twitter account a poster of an NBA ball and the words: 'Big things are coming.'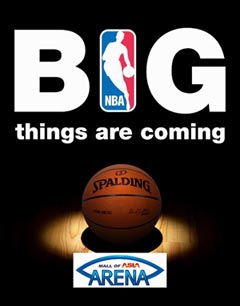 Gonzales, however, declined to provide further details, saying negotiations are still ongoing with people from the NBA headquarters in New York.
Several NBA players have seen action in the country over the years but no official NBA game, whether in the preseason or regular season, has been held here.
Only last year, former Chicago Bulls stars Scottie Pippen and Dennis Rodman led a team of retired NBA players in an exhibition game against PBA legends at the MOA Arena.
In 2011, NBA superstars led by Los Angeles Lakers' Kobe Bryant, Chicago Bulls' Derrick Rose, and Oklahoma City Thunder's Kevin Durant played in a pair of exhibition matches against the Smart Gilas team and a PBA selection at the Smart Araneta Coliseum.
------------------------------------------------------------------
Wow, as a huge Pacer fan im really excited to see an actual NBA Game here in my country. Can't wait to see the whole Pacers team, such a DREAM COME TRUE for me. "Pacers are in my Blood" haha
Can anybody their in Indy can confirm this news??